Let's talk healthy adult beverages… ya'll know I love my Prosecco, Italian champagne.  Heck, I like all champagne; I don't discriminate.  Well, except the cheap stuff so I guess I do discriminate.
The following info is from this article.
"If you're planning a night out (or even in) for New Year's Eve, chances are you might imbibe a little' or a lot. And, if you're watching your weight, keep in mind that cocktails can be filled to the brim with hidden calories. That's not true of all drinks though. If you're looking for a few low-calorie drinks to enjoy this holiday, we've got you covered — cheers!"
Rosemary Pear Sparkler
"Choosing champagne or sparkling wine to celebrate the holiday season is a nice low-calorie alternative to spirits or beer, but when I'm craving a cocktail, a plain glass of Prosecco doesn't always do the trick.
If you're looking for a nice cocktail to enjoy this holiday season, try my refreshing rosemary pear sparkler. It makes a great aperitif, and the flavors of pear and rosemary really tie together the feelings of Fall."
Rosemary Pear Sparkler
original recipe
Depending on how many servings you need, make as little or as much of the rosemary-pear mixture as you like. Just keep the ratio of water, pear juice, and agave nectar consistent. The mixture also tastes great in soda water or lemonade.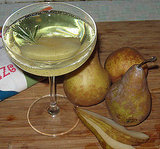 Ingredients
2 cups water
1 cup agave nectar
1 cup pear juice
1 bunch fresh rosemary
2 pears, peeled, cored, and sliced
Prosecco
Directions
Stir together water, agave nectar, four rosemary sprigs, and pear juice in a medium saucepan over medium-high heat.
Bring to a boil, remove from heat, and let stand for 30 minutes or until liquid has a distinct rosemary flavor.
Strain rosemary from liquid.
Pour liquid into a jar with pears and store in refrigerator overnight (and up to a week).
Add one and a half tablespoons of the rosemary-pear mixture to a champagne glass and top off with chilled Prosecco.
Garnish each glass with a pear slice from the mixture and a sprig of fresh rosemary.
Mulled Wine
Mulled wine is the perfect warmer for a cold Winter night (or day!) and makes a great party drink because it can be made in batches. It's also a great alternative to hot buttered rum, boozy eggnog, or spiked hot chocolate.
Mulled Wine
original recipe
To make this recipe you will need an empty tea satchel for the spices. As an alternative, whole spices can be substituted for the ground spices. If using whole spices, tie them together in a cheesecloth or use a stainless steel tea infuser.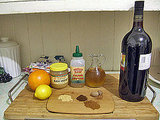 Ingredients
1.5 liter bottle of dry red wine
Zest from 1 lemon
Zest from 1 orange
1 tablespoon cinnamon
1/2 tablespoon cloves
1/2 tablespoon ginger
1/2 tablespoon nutmeg
Honey, agave nectar, or apple juice to taste
Orange slices or cinnamon sticks for garnish
Directions
Pour wine into large saucepan and cook over low heat.
Add lemon and orange zest to the wine.
Place the spices into an empty tea satchel. Put the satchel into the saucepan and brew the mixture for 30 minutes.
Add sweetener of your choice to taste.
Pour the wine through a strainer and serve in heatproof glasses. Garnish each glass with a sliced orange or cinnamon stick.
Lillet Champagne Cocktail
If you're looking for something different to sip this holiday but are worried about calories, try this Lillet Blanc Champagne cocktail. Lillet Blanc is a French aperitif wine that has flavors of citrus and honey, and when combined, it really steps up the flavor of champagne. I love this cocktail because I still get all the celebratory bubbles of Champagne but feel like I am drinking a fancy cocktail. And since it's a wine-based drink, it's also a lot lower in alcohol and calories when compared to a spirit-based cocktail.
Lillet Champagne Cocktail
adapted from Gourmet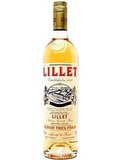 Ingredients
2 ounces Lillet Blanc
3 ice cubes
2 ounces chilled Champagne or sparkling wine
twist of orange peel for garnish
Directions
In a chilled Champagne glass combine Lillet with ice, add the chilled Champagne, and garnish the drink with a twist of orange peel.
Makes 1 drink.
Blood Orange Champagne Sparkler
This blood orange champagne sparkler is seasonal, refreshing, and easy to make. Blood oranges are a great source of vitamin C and contain a good amount of vitamin B1 and folic acid.
Blood Orange Champagne Sparkler
adapted from Bon Appetit
Ingredients
2 teaspoons black currant liqueur (crème de cassis)
1/2 cup strained fresh blood orange juice (from two blood oranges)
Chilled brut Champagne or dry sparkling wine
2 blood orange slices
Directions
Spoon 1 teaspoon each of the black currant liqueur into two Champagne flutes. Add 4 tablespoons juice to each glass. Fill each glass with Champagne, then stir gently.
Garnish each glass with a blood orange slice.
Makes 2 servings.
Asian Bloody Mary
Come New Year's day, you may be feeling a little hungover, and some people swear that another drink is exactly what you need to feel better. Whatever your excuse, a Bloody Mary is the way to go. Try our recipe for an Asian Bloody Mary — lighter in calories because it's made with shochu, and the hot sauce, lycopene from the tomato juice, and wasabi will definitely wake you up!
Asian Bloody Mary
original recipe
If I don't have homemade tomato juice on hand, I'll use R.W. Knudsen's organic tomato juice. It has no added sugar, and the sodium content is relatively low compared to other store bought brands.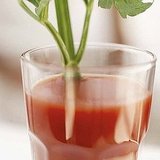 Ingredients
2 ounces shoju
4 ounces tomato juice
1/2 teaspoon freshly grated wasabi or 1 teaspoon wasabi paste
1/2 teaspoon freshly grated ginger
1/2 teaspoon soy sauce
1/2 teaspoon Sriracha hot sauce
Pinch of freshly ground pepper
Juice of 1/2 large lime
Celery stalk, tomato, lime, or cucumber spear for garnish
Directions
Combine all ingredients except garnish in an ice-filled cocktail shaker and shake to combine.
Strain over fresh ice into a glass and garnish with assorted veggies.
Makes one drink.
~~~~~~~~~~~~
So I pretty much want to try every one of those drinks, like right now.  Hope you all have a fun and safe New Year's Eve!
Skinny Runner